Events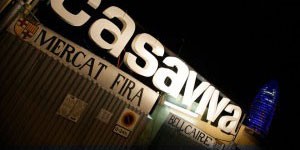 Under a bridge in the streets of Valencia, the team and clients of Casa Vivia Magazine tasted the flavours of this unique bohemian party. Inspired in the rave culture, this festival featured live performers playing music, creating grafitti and dancing, while guests gathered around burning barrils to enjoy & participate of the experience.
From old to new Party, Barcelona
SmartDeco was the agency in charge of launching a new Project of designer Francesc Rifé at the Piña Grau Jewelery shop in Palma de Mallorca. Under the heading "A sweet taste of chocolate jewels" we designed an original event that invited the media and general audience to taste "candy treasures" served as authentic jewelery.
Inauguración Joyería Piñagrau con interiorismo de Francesc RIfé
SmartDeco fue la encargada de organizar la inauguración del nuevo proyecto del interiorista Francesc Rifé en la Joyería Piña Grau de Palma de Mallorca. Diseñamos un evento al que fue invitada la prensa y también el público general que, bajo el epígrafe "Una dulce cata de joyas de chocolate", invitaba a los participantes a probar deliciosos dulces servidos como auténticas joyas.
The 500 drums nearby Party Casa Viva
A drum concert for more than 600 people at the Green Space in Valencia. This event was inspired by the pulse and rhythm of a vibrant corporate team: Casa Viva Magazine.
To celebrate the 100th issue of the Official Casa Viva Magazine, we organized a traditional rendez vous at La Paloma, Barcelona, inviting a selected group of media, interior designers and clients.